Is it safe to travel in Turkey
However some media sources and people are telling it's not a safe place to travel to due to unrest and due to countries it shares a border with.
Media likes to exaggerate stuff because it brings more ratings, the daily life is quite peaceful.
Most travelers comment on the friendliness and hospitality of the Turkish people. It really is exceptional.
Turkey is not only friendly, it is, in many ways, as safe as Europe and North America, although no place is completely safe. Here are some travel danger statistics to put things in perspective.
How safe is it to travel to Turkey?
We asked Government and industry experts for their travel advice.
The Foreign and Commonwealth Office (FCO) advise against all travel to within 10 km of the border with Syria and to the city of Diyarbakir.
The FCO advise against all but essential travel to:
the remaining areas of Sirnak, Mardin, Sanliurfa, Gaziantep, Diyarbakir, Kilis and Hatay provinces
the provinces of Siirt, Tunceli and Hakkari
– the provinces of Siirt, Tunceli and Hakkari
"British nationals made over 1.7 million visits to Turkey in 2016. It's generally safe to travel to Turkey, but you should take additional safety precautions. Be alert to your surroundings and remain vigilant in crowded places popular with foreign nationals, including during festival periods such as Christmas and New Year.
"Rallies and demonstrations, official and unofficial, may take place at short notice. You should stay well away from any demonstrations.
"The situation has calmed following an attempted coup on 15 to 16 July 2016. But the security environment remains potentially volatile and a state of emergency is in place.
"In some busy areas, especially Istanbul, the Turkish authorities are stopping members of the public to conduct ID checks. There's also a larger than usual number of police checkpoints on main roads across Turkey. You should co-operate with officials conducting checks, and keep your passport and a printed copy of your e-visa or your residence permit with you at all times."
Check the FCO's Turkey travel advice page for more updates.
Are many people still travelling to Turkey?
Europe travelling to Turkey have been warned of a 'high' terror threat following the triple attacks on Istanbul's Ataturk International Airport and a failed military coup last year.
But with Turkey a popular holiday destination for many, is it still a safe place to travel to?
Visitor numbers have certainly been hit as a result of recent events, but tourists are still travelling to Turkey in their millions.
Do you think it is safe to travel to Turkey ?
Is it safe to travel to Turkey in 2017?
If you don't visit Turkey due to fear of terror, then don't visit France, Germany and Britain either. It is as safe as UK. Actually it is safer than UK nowadays.
What should I know before leaving?
The latest security measures put in place by the UK Government ban large phones, laptop's, E-readers & tablets being brought into the cabin of the plane.
This only affects you if you're returning to the UK from Turkey (inbound flights) so be sure to pack away all those devices into the suitcase on your way back from your holiday.
Power packs for your phone or tablet are not allowed in either the cabin or in your checked in bags, bringing these items will mean you won't be able to board the plane.
Where's Safe To Go? 
Over 1.7 million British tourist's travel to Turkey every year, and for the most part it's pretty safe, however, the government has advised against travelling in areas, unless necessary, which borders with Syria.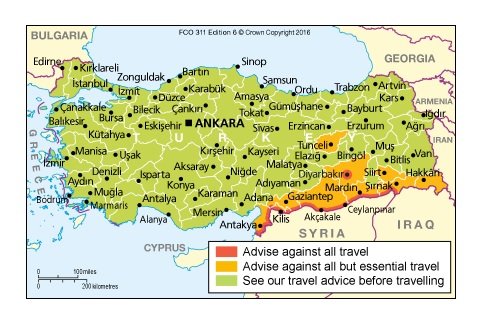 After the failed coup attempt, politically the country is going through changes and instability. There is a referendum on powers of the president due on April 16th that is an example of this. The referendum could see vast crowds gathering to show their support. Take this into consideration when planning where and when you are going to visit specific places.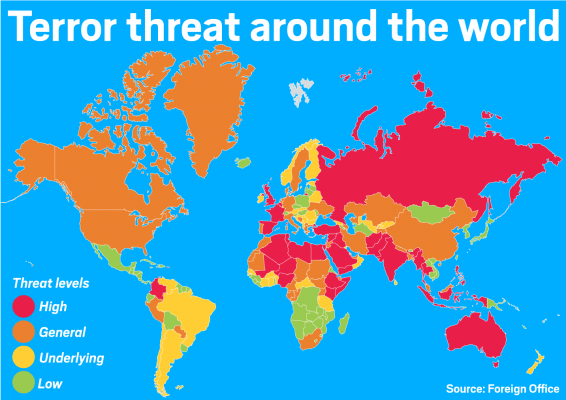 Turkey is seen as being under a high threat of terrorism, so be aware when you're there.
The government states that terrorists usually target places that are not very well protected and where the public come to gather. You cannot avoid all pubs, restaurants and public transport obviously but you should remain vigilant. If you are worried you should try and avoid other places where large numbers of people congregate.
Why have a holiday in Turkey?
Turkey is a vast nation, straddling Europe and Asia, full of beauty and rich in heritage. The country also has welcoming people, fabulous cuisine, great beaches – and low prices. I first visited Turkey in 1988, travelling along the Mediterranean coast to resorts including Olu Deniz and Marmaris, and exploring treasures such as the ruins of Ephesus. I have returned many times since then, both as an independent backpacker and on package holidays. I am particularly fond of the biggest metropolis, Istanbul, which is one of the most fascinating and rewarding cities in the world – and I am looking forward to exploring the country more deeply in years to come.
Impressive, Breathtaking, Stunning…
So many words come to mind when you see the beauty of Turkey. Not only beautiful but also unique, not only sights but unforgettable experiences.
This is what vacation in Turkey is. Turkey offers nothing less than a good life with happy memories.
Featured activities
Things to see and do in Turkey. Find out the best things to do, places to go and visit including events and fun activities for sightseeing as well as top tourist attractions in Turkey
the country that travels within you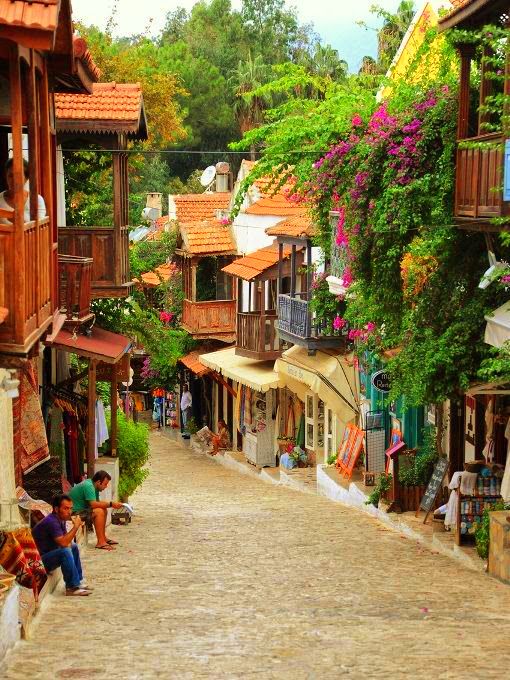 See it! Feel it! Love it!
T

urkey is on the Mediterranean, in the Anatolian region of West Asia, with a small section in Southeastern Europe separated by the Turkish Straits (Bosphorus, Sea of Marmara, and Dardanelles).

With the Black Sea to the north and the Aegean Sea in the west and Mediterranean Sea to the southwest, Turkey is surrounded by Bulgaria and Greece to the west, Armenia, Azerbaijan and Georgia to the northeast, Syria, Iraq and Iran to the southeast.
And you think you've done it all?
Welcome to holiday, tourism and travel guide to Turkey. Turkey is home, where your journey begins. Come and visit Turkey.
Want more travel tips for Turkey? Follow along on twitter:
#turkeyisopen and #visitturkey